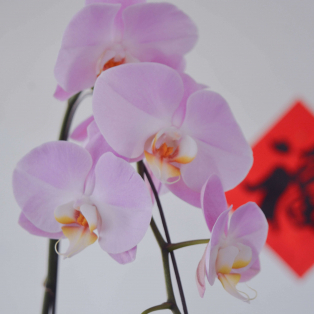 How do you plan to celebrate Chinese New Year?
Chinese New Year is a festival where the atmosphere of celebration should be visible.
The feeling of excitement for the upcoming year, the expectation that we would like to achieve.
It is also a time where we want to slow down and enjoy the decorations that our friends and relatives have put on.
But hey, how about ourselves?
We should also be putting up something that is pleasing for others and of course ourselves!
With the current trend of video conferencing or video calls, it would not be surprising to see people make video calls instead of physical visitations.
With technology, meeting up virtually has become easy and accessible.
It is possible to now virtual-visit relatives from different areas that are far away!
Making a call in KL to both relatives from Ipoh and Melaka,
prepare dinner and have dinner together with loved ones from Sabah or Sarawak.
It is no longer just a dream to have people to come together and chitchat from faraway places.
At the same time,
how about the atmosphere that we bring to the people around us?
Are you still showing the blank wall behind you?
The bookshelves that are covered with dust? Why not bring an atmosphere of celebration with small touches
that is able to bring joy and a topic for chit chat?
Small flower ornaments that is suitable for your video calls as well as physical visitations!
A plant that can last you till chor 15 (15th day of CNY) with little care,
and with simple watering, it can continue to grow and provide an elegant atmosphere to the surrounding.
Be it a big area or a small room,
we can choose the size that is suitable for us.
This year, we crafted these tabletop flowers
with the wish that it brings the joyous atmosphere to those who set their eyes upon them.
Get a big one if you would like to have it at the entrance or the dining area,
get a small one if you are renting a room.

But why stop there? These plants can be a great gift to relatives and friends!
Are you still thinking of bringing over mandarin oranges and the food that is already overflowing?
Bring along a potted plant and some healthy snacks instead for a refreshing gift set!
Apart from sharing happiness during Chinese New Year, it is always a tradition for us to bring along a word of blessings.
Going around houses, meeting people and greeting them "Gong Xi Fa Cai" (May you prosper) or "Shen Ti Jian Kang" (May you be healthy).
But have you thought of bringing something that signifies protection? This year, we did a combination 3 motifs!
1) Chinese Knot – which is also known as the "mystic knot".
This signifies protection against evil spirits for longevity and eternity.
In Feng Shui, it also brings the meaning of long life without setbacks with the seemingly endless knots.
2) Wreath – is often used to project the wish of good fortune and prosperity.
3) Shimenawa – a Japanese-based motif which is used to ward off evil spirit against diseases.
Shimenawa is often seen at the shrine entrance.
This is PERFECT for gifting for this Chinese New Year!
You get "Gong Xi Fa Cai"(May you prosper), "Shen Ti Jian Kang"(May you be healthy),
"Chang Ming Bai Sui"(May you have a long life) on the same ornament!
Is it the first time thinking of wreaths as a gift?
It would be normal to think about how can it actually be put up! Our design is meant to be versatile.
You can put it in various orientation, and it would bring you different feel to the area.
This makes it suitable to be put on doors or hang it on the wall.
Well, putting it as a tabletop decoration against the wall or on a small stand would be a grand view with a meaningful message.
It would be nice if you can share with your friends and relatives the message that this one little ornament brings!
Getting something that is more elegant and small might be suitable for the elderly.
There are many young ones who prefer something more complex as well.
We have crafted tabletop flowerpots that have more complex arrangements that suite the Chinese New Year season.
Putting up something at the living area or on top of the TV rack would immediately bring colours to the room.
Make your room feels more joyous in accordance with the season.
How about a tabletop arrangement with "Lucky cat" if you plan to make this a gift to your relatives, friends or business partners.
There are also people who prefer perishable gifts.
Getting gifts that you can enjoy with family and friends at the same time reducing the clutter.
It has become a practice where more and more people are becoming minimalistic.
Getting more items at home may not be something that they prefer. Then gifting edible presents would be more suitable.
Last year, we have worked with a baker and the feedbacks was awesome! This year, we are working with the same baker again to push out new year cookies.
Are you the type that is used to bring hampers to business partners or relatives?
This year, we have a range of Chinese New Year hampers starting from RM128!
Hampers provide a range of products within.
This would mean that you should be able to have something to share with the people around regardless of their preference!
Make this a Chinese New Year to remember! It is our wish to bring you a joyous Chinese New Year.
With this in mind, we come up with a range of different products that are suitable for most scenarios.
This would be our way of wishing you to have a celebration that suites your style!
Would it be something minimalistic or something with a deeper message, or would it be edible food or is it a hamper that you can share with people around and a cup of wine?
Let us help you achieve that. It would be our pleasure to be able to bring some smiles to the people around you.
Let us know your story too!
Last but not least, Gong Xi Fa Cai! Shen Ti Jian Kang! Chang Ming Bai Sui!
May you be prosperous, healthy and a long life!
#staysafe